Trying something new:

Pelican 1170 + 2x Cocoon Grid-it CPG5's. My take on the EDC "bag".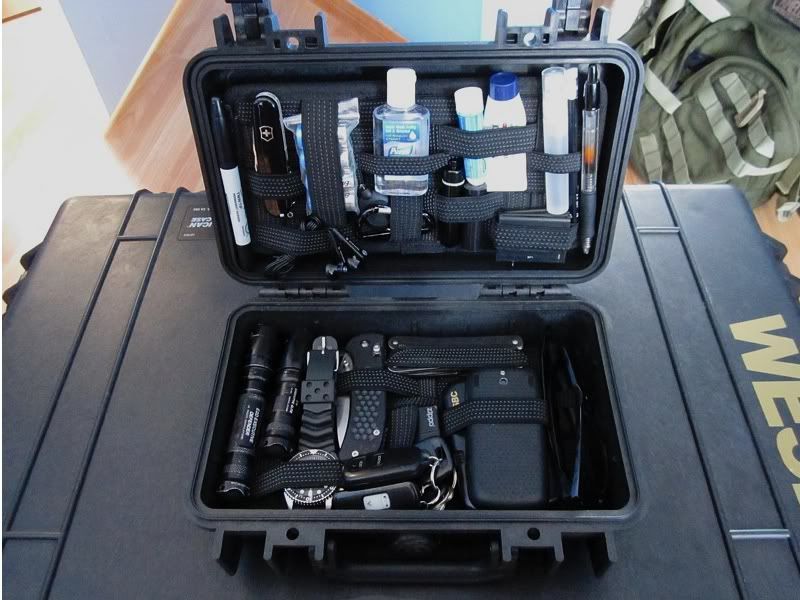 I got my inspiration from DArtagnan's post. Though I am not completely satisfied yet. Thinking about taking out the items that I still normally pocket carry (most of the bottom portion) and throwing in a small bag/organizer for stuff I don't need that often. Note that I don't carry this everywhere, but it is with me or near me when I go out. Since I practically have everything in my car, this is a way for me to keep track of my EDC items that I chose not to put in my pockets that day. It's mostly if I'm going out in a friends car or in a car that's not my own, more of a small EDC car "bag".

Why a Pelican over a bag (which I still may do in the future)? Simple, I love Pelican cases (in case you couldn't tell). I already had this 1170 for my SF 9P+A19+KT2 Turbohead+HO-M4A but I always though it was the perfect size for EDC use. Plus I'm not too sold on gear slingers and I think backpacks are too big for my intended use. I'm going to play around with it for the next few weeks until I get happy with the set up.

Contents:
-Top:
Sharpie dual tip
SAK Spartan (just got it)
4 CR123's
Headphones
Hand Sanitizer
Carabiner with fauxton
Vick's inhaler (feels good mannn)
Aquaphor (I hate stick style lip balms as it makes me feel like I'm putting on lipstick -_- plus this stuff is good and lasts way longer)
Spy capsule with 4 extra strength Tylenol
Gorilla tape (not sure how much I just rolled it till I thought it was too big)
Small spray bottle of cologne
Pen and Pencil
3x spare phone batteries (they were $3 shipped off amazon! easier than bringing a charger and worrying about a finding a plug)

-Top Inside Zippered back:
Band aids
Alcohol Wipes
Index cards
Fresnel Lens
Ziploc bags (quarts)

Bottom:
E2DL
E1DL
Seiko SKX007
BM Ritter Grip with Wilkins G10 grips
SAK Spirit S
Zippo with Thunderbird butane insert
Keys- USB, SAK Classic
Flipside 2x Wallet
Palm Pixi Plus w/ touchstone back
Fisher Space pen Cap-O-Matic
Oakley Frogskins

Nothing inside the bottom zippered pocket yet. I might stash some cash or other documentation there.



Oh and suggestions for how to organize everything. pwease.